Solos and Ensembles Competition 2021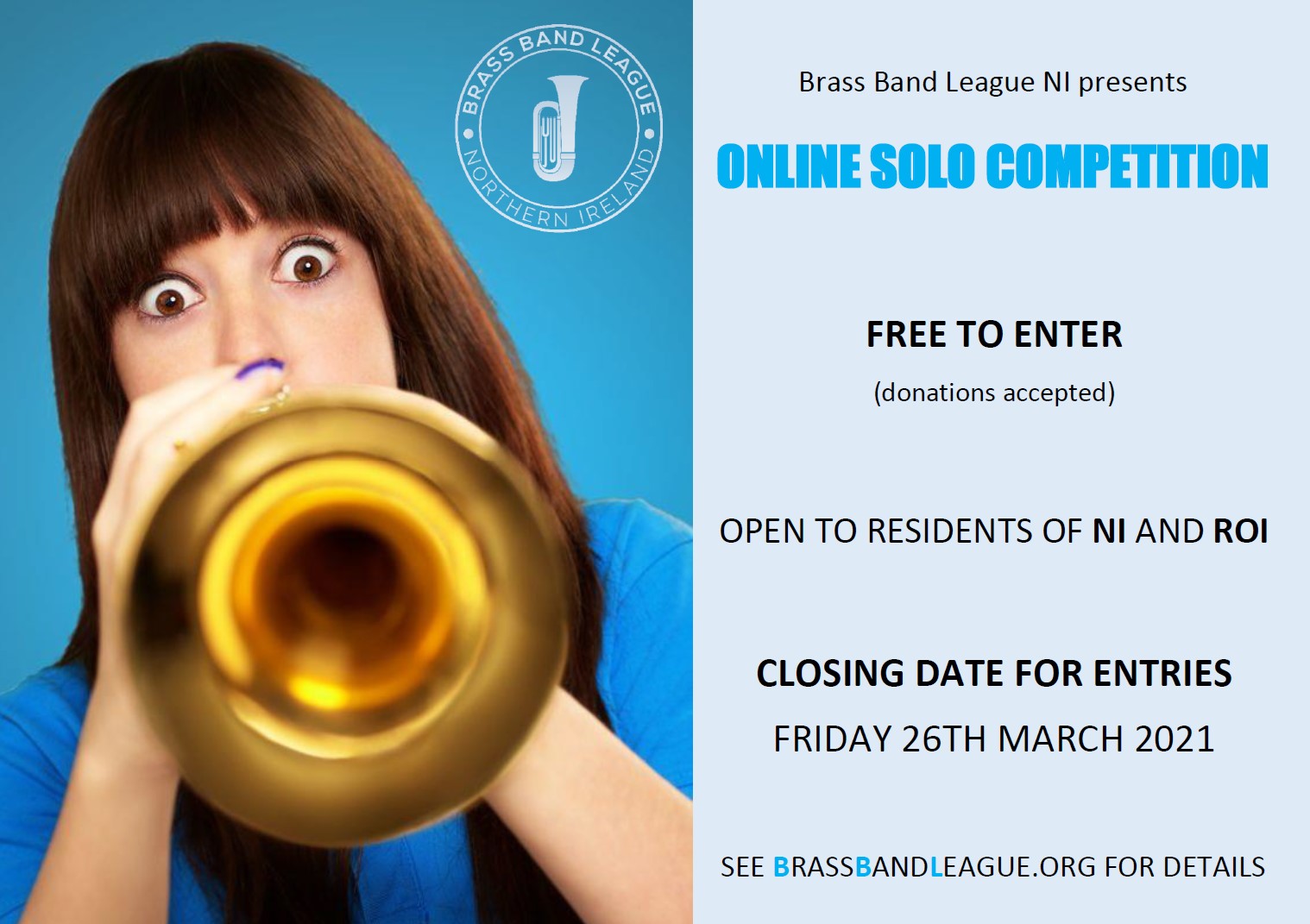 Happy to be able to announce the details of our 2021 Solos and Ensembles Event!
Ensemble Sections – to be postponed until COVID-19 restrictions enable people to meet and play in groups again. Further details to be finalised.
Senior Solo Classes:
Slow Melody – 7 minutes time limit
18 and over technical class – 9 minutes time limit
Senior Prizes: Prize for 1st, 2nd and 3rd place and then prize for the highest placed player in each band section (Championship, 2nd, 3rd, 4th, 5th and Unaffiliated)
Youth Solo Classes:
10 and under
12 and under
15 and under
17 and under (Own Choice Piece)
Youth Prizes: Prize for 1st, 2nd and 3rd place and certificate for all participants
Youth Solo syllabus:
10, 12 and 15 and Under Solo
The Young Soloist Volumes One, Two and Three
Publisher: Studio Music
Winner Scores All (Peter Lawrance)
Publisher: Brass Wind
15 and Under Solo only
Great Winners (Peter Lawrance)
Publisher: Brass Wind
Key Dates:
Closing date for all entries: 26th March 2021
Adjudicators top 5 announced: 10th April 2021
Youth Results: 17th April 2021
Finals to be recorded: 11th April 2021 – 18th April 2021
Final Results: 24th April 2021
Please note that dates may be subject to change.
Youth Accompaniment
The BBL will provided piano accompaniment forsome of the pieces in the syllabus. More details to be sent at a later date.
Payment options:
There are no fees for entering the contest but bands and individuals are welcome to send a donation by bank transfer or cheque.
Rules:
Entry by Google Forms – https://forms.gle/dN5rdme4dYFcLYSp8
Entries open to everyone residing on the island of Ireland
All competitors are permitted to play only one piece.
Senior Classes categories will consist of two rounds of judging (Preliminary & Grand Final).

Preliminary rounds are open for entries until 26th March 2021

Grand Final – The top 5 from each category will have a second recording made live via an online meeting between 11th and 17th April 2021 for their Grand Final performance. The top 5 entries from each category will be contacted directly to arrange this.

Audio editing or enhancements (including reverb and multi-tracking) are not permitted
Previously published videos cannot be used.
Submissions can be either accompanied or unaccompanied – if accompanied these can be via any means provided social distancing guidelines are adhered to.
Limit of 1 entry per class
In sections where age is relevant, proof of age may be requested. Competitors must have been within the age limit on the 26th March 2021.
Under 18 competitors are required to obtain parental/guardian/carer consent before placing any entry to the contest.
Youth players may play up in any age classes if they so desire.
Performers must always be visible.
BBL reserve the right to withhold/amend/delete any submission if deemed appropriate to do so by them.
Pieces must be published, or composers consent obtained (which is the responsibility of the performer).
All videos must demonstrate compliance to current social distancing rules as set out by the relevant authorities of the country of origin
Adjudicators' decisions are final, each participant will receive their adjudicators remarks and a certificate for taking part.
If you have any questions or issues, please contact BBL Secretary Amber via email at secretary@brassbandleague.org or phone by 07593 061905.
For a pdf version of our Information and Rules please click here