Septura in Fermanagh!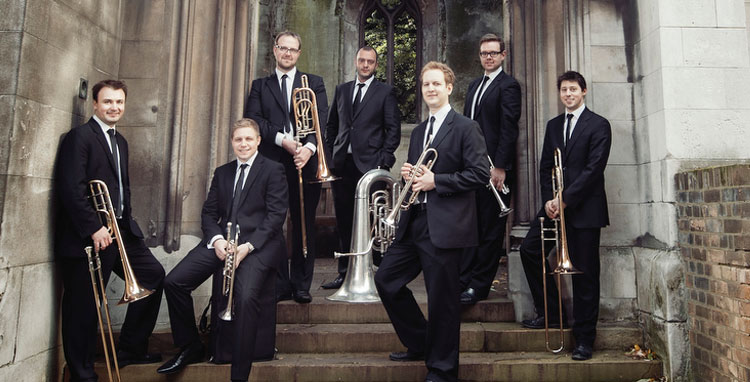 KELPTOMANIA – BORROWED BAROQUE
A Unique Opportunity to Hear Brass Music at Its Absolute Best
Have you ever been thrilled by the sound of a trumpet fanfare? Have you ever been moved by the sad sound of a brass band at a funeral? Have you ever smiled at the saucy slide of a trombone? Yes? Then come to the Ardhowen Theatre at 8.00pm on Thursday 19th March for 'Kleptomania – Borrowed Baroque' and hear music from Septura, a top international brass septet.
Because, in the Fermanagh and Omagh area, more young people are learning to play brass instruments than all other types of instruments combined, Music in Fermanagh, the promoters of this concert, has sought the best players available as an inspiration to those students. Trumpets: Philip Cobb, James Fountain and Simon Cox. Trombones : Matthew Gee, Matthew Knight and Daniel West. Tuba player: Sasha Koushk-Jalali. Septura's members are the outstanding players of the new generation of British brass musicians, holding principal positions in leading orchestras. To those who follow brass music these are very prestigious names.
The brass septet is a brand new invention. There is no canon of repertoire, no grand history of great compositions, hence Septura's compulsion to steal and the title 'Kleptomania'. All of this performance's music which includes pieces by Rameau, Prokofiev, Handel and Stravinsky has been specially arranged for brass septet by two of the players.
Richard Pierce, the chair of Music in Fermanagh, wants to emphasise that although his organisation brought this group to Fermanagh to inspire students, the concert is for absolutely everybody and will be more than enjoyable: it will be unforgettable!
Tickets priced £15-00/ under 25's £5-00 available now from www.ardhowen.com / tel:028 6632 5440