1st Old Boys represent Northern Ireland at EuroBrass 19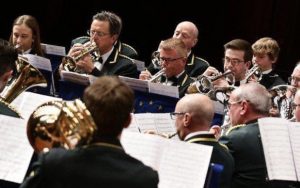 It was a great weekend of contesting and music making as 1st Old Boys band represented Northern Ireland at the 2019 European Brass Band Championships in Montreux, Switzerland.
This was the seventh time the band had qualified for this auspicious contesting event, having also finished as runners-up in the Challenge Section two years ago in Ostend, Belgium.
The Old Boys Association has undergone some changes since then, with the introduction of some new faces to the band.  The recent introduction of 16yr old Louise Bell as the new Principal Cornet, being seen as an eye fixed on securing the future of the band, but also as testament to several exceptional young players now in key positions around the ensemble.
Louise ably led the band onto the expansive stage at the Stravinsky Auditorium in Montreux, shared by some of Europe's banding elite, and to compete in this year's Challenge Section, with bands from Spain, Lithuania, Germany and Scotland.
With a commissioned Set Piece "Terezin" from Swiss Composer Mario Burki, and "Sinfonietta No.3" by Etienne Crausaz as their own choice work, the Old Boys gave a bold, dramatic performance, respectful of the occasion, and were awarded a total of 92 points.
A keenly fought contest saw the Old Boys narrowly pipped by a point to second place by LT Brass of Lithuania, with Brass Band Regensburg from Germany the winners with 95 points.
Band secretary Jonathan Sharpe commented on "another fantastic European escapade for 1st Old Boys, with a result and an experience that will only help to further mature the band and its young stars for many years to come"