Festival of Brass 2017 – Report and Full Results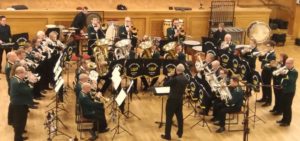 The Brass Band League (NI) returned to Queen's University Belfast on Saturday 25th November to stage their ever popular Festival of Brass contest in the University's Whitla Hall.
Strong Start
Warrenpoint Silver, despite being the only band in the 4th section, got the day off to a strong start with a varied programme which saw music from Germany, Ireland, Mexico, France and Russia.
Closely Fought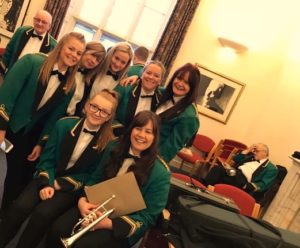 The closely fought 3rd section saw defending champions Wellington Memorial reclaim 1st place with their young flugel player Lauren Stewart taking the Best Soloist prize for her classy performance of Magh Seola. Dungannon Silver claimed the Best March prize for Robert Allmend's Europe Mars.
Clean Sweep for Lourdes
Irish contenders Lourdes Brass Band achieved a clean sweep in the 2nd section, top placed for music and entertainment, Best March for Voice of the Guns and Best Soloist for their principal cornet Mark Newman's simply lovely rendition of Langford's classic arrangement off My Love is Like a Red, Red Rose
Long-time Champions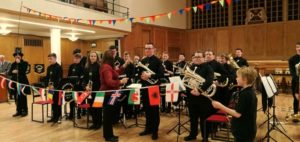 Next up were the youth bands. Despite a strong performance, challengers Downshire Brass Youth were unable to snatch the title from long-time champions 1st Old Boys' Youth Band who once again claimed 1st prize with their principal horn Daniel Sharpe taking the soloist prize for Untold Story and their performance of Rimmer's Slaidburn claiming the prize for Best March.
Rousing Close
After a short break the Championship bands brought the day to a rousing close. 1st Old Boys senior band followed in the footsteps of their not-so-senior counterparts to claim 1st prize along with awards for Most Entertaining Band and Best Soloist for Alan Haworth's performance of his own arrangement of Delilah. Third Carrickfergus took home the prize for Best March for Rimmer's Cross of Honour.
The Brass Band League would like to take this opportunity to thank Michael Alcorn and the team at Queen's University Belfast for the huge amount of effort they put in to hosting the event. Also, our music adjudicator Leigh Baker and our 2 entertainment adjudicators Paula McHugh and Meaghan Lyons who were both engaged at very short notice due to unforeseen circumstances.
The Brass Band League would also like to offer their congratulations to all prize winners and thanks to all participating bands for a fine day of music making.
Results in Full
Music/Entertainment=Total
Championship Section
Adjudicators: Leigh Baker (Music) & Meaghan Lyons (Entertainment)
1. 1st Old Boys Silver Band (Stephen Cairns) 10/10=20
2. Laganvale (Metal Technology) Band (Stephen Crooks) 9/9=18
3. Third Carrickfergus Band (Brian Connolly) 8/7=15
4. Downshire Brass (Michael Alcorn) 7/8=15
Most Entertaining Band: 1st Old Boys Silver Band
Best March: Third Carrickfergus Band (Cross of Honour)
Best Soloist: Alan Haworth (1st Old Boys' Silver Band)
Second Section
Adjudicators: Leigh Baker (Music) & Paula McHugh (Entertainment)
1. Lourdes Brass Band (Michael Alcorn) 10/10=20
2. CWA Brass (Ernie Ruddock) 9/9=18
3. Comber Silver Band (Wesley Thompson) 8/8=16
Most Entertaining Band: Lourdes Brass Band
Best March: Lourdes Brass Band (Voice of the Guns)
Best Soloist: Mark Newman (Lourdes Brass Band)
Third Section
Adjudicators: Leigh Baker (Music) & Paula McHugh (Entertainment)
1. Wellington Memorial Silver Band (Gary Proctor) 10/10=20
2. Dungannon Silver Band (Boris Pinto) 9/9=18
3. Dynamic Brass (Harold Whan) 8/8=16
Most Entertaining Band: Wellington Memorial Silver Band
Best March: Dungannon Silver Band (Europa Mars)
Best Soloist: Lauren Stewart (Wellington Memorial Silver Band)
Fourth Section
Adjudicator: Leigh Baker (Music & Entertainment)
1. Warrenpoint Silver Band (Mark Newman) 10/10=20
Most Entertaining Band: Warrenpoint Silver Band
Best March: Warrenpoint Silver Band (Aces High)
Best Soloist: Maurice McCabe (Warrenpoint Silver Band)
Youth Bands
Adjudicators: Leigh Baker (Music) & Paula McHugh (Entertainment)
1. 1st Old Boys' Youth Band (Jacklin Bingham) 10/10=20
2. Downshire Brass Youth Band (Michael Alcorn) 9/9=18
Most Entertaining Band: 1st Old Boys' Youth Band
Best March: 1st Old Boys' Youth Band (Slaidburn)
Best Soloist: Daniel Sharpe (1st Old Boys' Youth Band)